Lesezeit:
< 1
Minute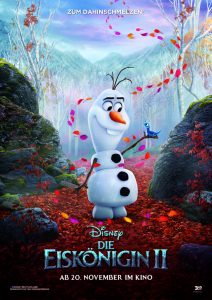 Die Eiskönigin 2 Soundtrack
Hier sind die englischen Lyrics zu When I Am Older aus Die Eiskönigin 2.
What was that?!
Samantha?
This will all make sense
When I am older
Someday I will see 
That this makes sense
One day when I'm old and wise
I'll think back and realize
That these were all
Completely normal events!
Aaaaagh!
 I'll have all the answers
When I am older!
Like, why we're in this
Dark, enchanted wood
I know in a couple years
These will seems like childish fears
And so I know
This isn't bad
It's good
Excuse me. 
Growing up
Means adapting
Puzzling at your world
And your place!
When I'm more mature
I'll feel totally secure
Being watched by something with
A creepy, creepy face
Aaaaaaaaaaaaaaaaaaaaah!!!
See, that will all make sense
When I am older
So, there's no need to be
Terrified or tense
I'll just dream about a time
When I'm in my agéd prime
'Cause when you're older
Absolutely everything makes sense!
This is fine
Die deutsche Version singen: Hape Kerkeling
Die englische Version singen: Josh Gad 
Geschrieben und komponiert von: Robert Lopez & Kristen Anderson-Lopez
Bildrechte und Informationen: 
© The Walt Disney Company Germany
*Affiliate Links dienen zum schnellen Auffinden der gezeigten Produkte und wir werden am Verkauf der jeweiligen Produkte beteiligt. Ihr müsst nichts weiteres tun, als den Link zu nutzen. Euch entstehen keine weiteren Kosten.  Die Produkte können natürlich auch auf anderen Seiten und in anderen Shops gekauft werden. 
Wir danken Euch für die Unterstützung 💜