Lesezeit:
3
Minuten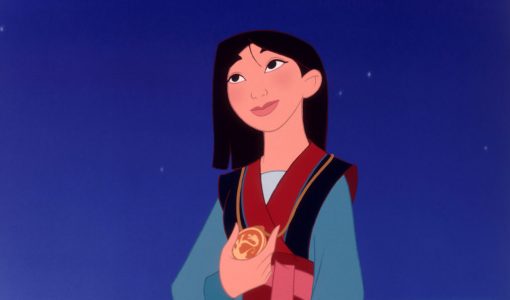 aus dem Jahr 1998
LYRICS | SOUNDTRACK | HÖRSPIEL
Action & Abenteuer, Animation, Coming of Age, Familie, Musical
>> Nach einer berühmten Legende aus dem alten China erzählt Disneys Meisterwerk Mulan eine Geschichte voller Spannung über Ehre, Mut und Familienstolz. Disneys 35. Meisterwerk Mulan wird die Herzen aller kleinen und großen Disney Fans im Sturm erobern. Die Hunnen bedrohen China. Als das tapfere Mädchen Mulan erfährt, dass auch ihr kranker Vater in den Krieg ziehen muss, fasst sie einen Entschluss. Sie verkleidet sich als Mann und nimmt den Platz ihres Vaters in der kaiserlichen Armee ein. Doch bevor sie gegen das Heer des skrupellosen Hunnenführers Shan-Yu zieht, muss sie zur Ausbildung in ein Trainingslager, wo ein Haufen tollpatschiger Anfänger für viel Aufregung und Trubel sorgt. Zum Glück stehen Mulan
ihre treuen Freunde, der vorlaute Drache Mushu und die Glücksgrille Kriki, immer mit Rat und Tat zur Seite. Aber Mushus flotte Sprüche allein reichen nicht, um den übermächtigen Feind zu besiegen. Mulan muss lernen, ihren eigenen Weg zu gehen, denn nur mit Köpfchen und Geschick kann sie ihr Land
und die Ehre ihrer Familie retten. << ~ The Walt Disney Company Germany
Deutscher Kinostart: 19. November 1998
Deutscher Disney+ Start: 24. März 2020
Mulan | Fa Li | Grandmother Fa | Woman 1 (who bathes Mulan) | Frau 2 ('hairdresser') | Woman 3 ('hairdresser') | Women-Choir | Woman 4 ('dressmaker') | Woman 5 ('dressmaker') | Woman6 ('Make-Up-Artist')
This is what you give me to work with?
Well, honey, I've seen worse
We're going to turn this sow's ear
Into a silk purse
It's freezing!
It would've been warm if you were here on time
We'll have you washed and dried
Primped and polished
Till you glow with pride
Trust my recipe for instant bride
You'll bring honor to us all
Mulan, what's this?
Uh…notes. In case I forget something.
Hold this.
We're going to need more luck than I thought.
Wait and see
When we're through
Boys will gladly go to war for you
And a great hairdo
You'll bring honor to us all
A girl can bring her family
Great honor in one way
By striking a good match
And this could be the day
Men want
Girls with
good taste
Calm
Obedient
Who work fast-paced
With good breeding
And a tiny waist
You'll bring honor to us all
We all must serve our Emperor
Who guards us from the Huns
A man by bearing arms
A girl by bearing sons
When we're through
You can't fail
Like a lotus blossom
Soft and pale
How could any fellow
Say "No Sale"
You'll bring honor to us all
Not yet
An apple for serenity
A pendant for balance
Beads of jade for beauty
You must proudly show it
Now add a cricket just for luck
And even you can't blow it
Hear my plea
Help me not to make a
Fool of me
And to not uproot
My family tree
Keep my father standing tall
Scarier than the undertaker
We are meeting our matchmaker
Destiny
Guard our girls
And our future
As it fast unfurls
Please look kindly on
These cultured pearls
Each a perfect porcelain doll
Please bring honor to us
Please bring honor to us
Please bring honor to us
Please bring honor to us
Please bring honor to us all
written by/geschrieben und komponiert von: Matthew Wilder & David Zippel
Interpreters/Interpreten: Lea Salonga, Beth Fowler, Marni Nixon
© 2019 Disney Enterprises, Inc.
© 2019 Walt Disney Records
Bildrechte und Informationen: 
© The Walt Disney Company Germany
*Affiliate Links dienen zum schnellen Auffinden der gezeigten Produkte und wir werden am Verkauf der jeweiligen Produkte beteiligt. Ihr müsst nichts weiteres tun, als den Link zu nutzen. Euch entstehen keine weiteren Kosten.  Die Produkte können natürlich auch auf anderen Seiten und in anderen Shops gekauft werden. 
Wir danken Euch für die Unterstützung 💜